Watch the Baltimore Ravens vs. the Tennessee Titans 2021 Wild Card MegaCast Sunday!
Freeform is the place to be for NFL Wild Card football. Watch the livestream as the Baltimore Ravens take on the Tennessee Titans on Sunday, January 10, 2021 beginning at 12:50 pm ET/9:50 am PT. ESPN's first NFL Wild Card MegaCast has expanded, as ESPN+ will join ESPN, ABC, ESPN2, Freeform and ESPN Deportes in a MegaCast presentation of the game resulting in six Disney networks combining forces to super-serve fans while offering the most extensive multi-channel NFL Playoff game to date during the NFL's Super Wild Card Weekend. The rich tradition of athletic competition established by ABC Sports continues with the best action around.
Watch on the Freeform app from your smartphone and tablet (iOS and Android), computer on Freeform.com and connected devices (Roku, AppleTV and Amazon Fire TV). Check out the start time below!
Sunday, January 10
Baltimore Ravens @ Tennessee Titans 12:50 pm ET/9:50 am PT
Freeform Brings Freestyle Approach, Pop Culture and DJ Khaled to MegaCast's "Watch Party"
Freeform's "Watch Party" will add an energetic, younger lens to the MegaCast as high-profile guests delve into an array of topics with ESPN's Jesse Palmer and Maria Taylor throughout the game. The appearance of the guests will be free-flowing and not set to a predetermined length of time as Palmer and Taylor will touch on multiple topics, including matters surrounding the game and within pop culture.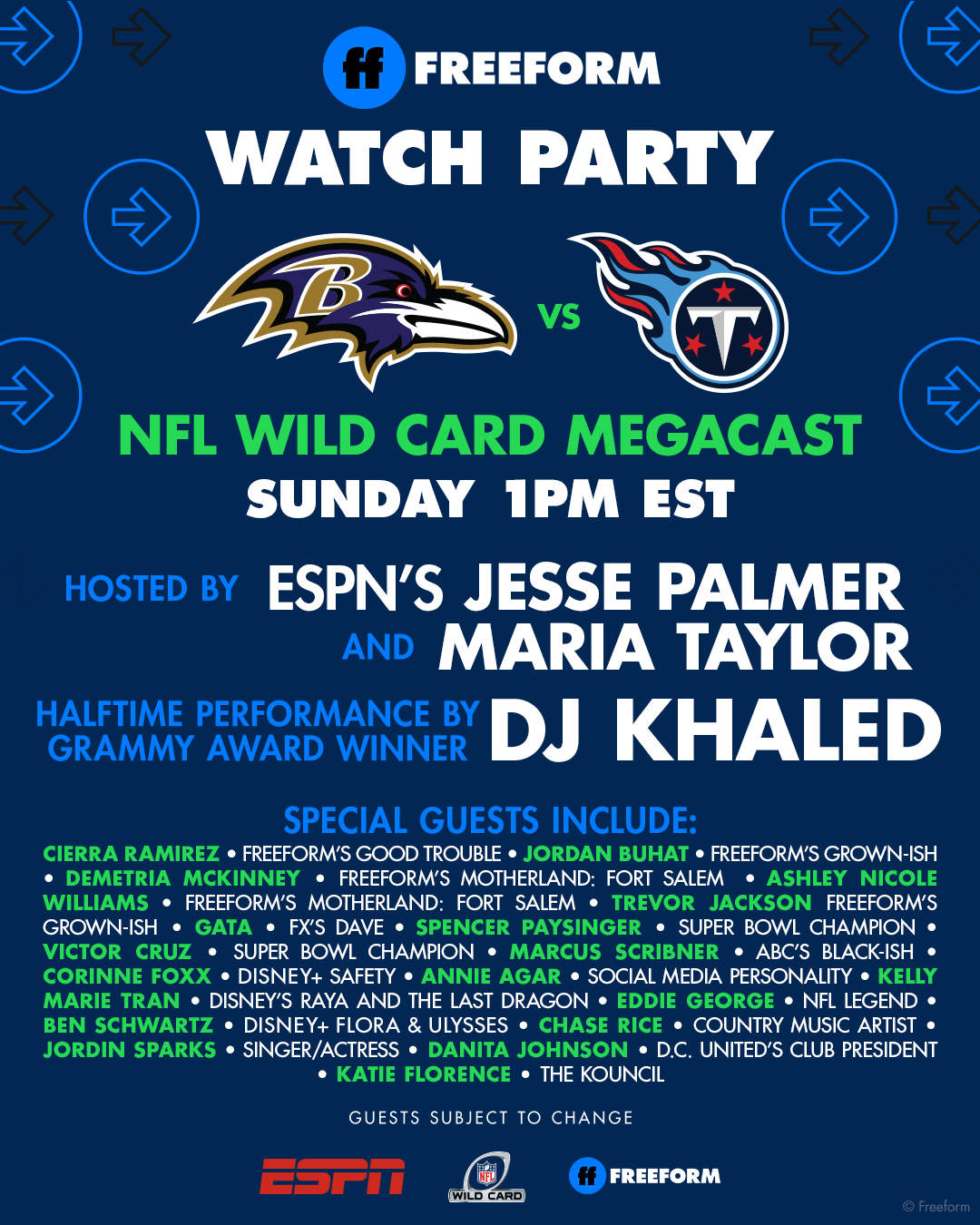 Guests appearing with Palmer and Taylor will be from different backgrounds and genres, including television, music, sports, ties to Baltimore and Nashville and more. Popular Freeform personalities such as Good Trouble's Cierra Ramirez and Motherland: Fort Salem's Demetria McKinney and Ashley Nicole Williams will appear, along with more standout network stars. Viewers will be able to consistently follow the Wild Card Game during the telecast, as a multibox presentation will have the game shown on the screen in addition to the hosts and guests.
The in-game presentation will surround multiplatform star DJ Khaled's halftime performance on the network, which will take place in Miami in advance of the game, and be presented to the audience with special post-production elements.