International Men's Day: The Best Male-led Moments on Freeform
International Men's Day is upon us! It's a day when we celebrate the great contributions that men make to our society and the positive male role models in our lives. Most importantly, it's an opportunity to discuss the difficulties faced by men that they can struggle to open up about, like depression and anxiety. It's also a chance to promote healthy gender relations and push back against misogyny, homophobia, and the multitude of toxic behaviors that are rife in our society. There are plenty of positive male characters on Freeform who promote these ideals. Be it Vivek and his willingness to take a stand against his friends' internalized homophobia in grown-ish, or Gael and his refusal to let Isabella go through her pregnancy alone in Good Trouble.
With that in mind, we've put together our picks for some of the best male-led moments on Freeform. You can head to Freeform.com or Hulu to check them out in full!
---
Good Trouble - Gael steps up to help Isabella through her pregnancy
Simply put, Gael is a great role model. He is proudly bisexual, highly expressive through his art, and incredibly protective of his sister, Jazmin - especially from their parents' transphobia. All of these things make him someone to look up to, but it's one of the most shocking revelations from season 3 of Good Trouble that really defines Gael's character. Isabella revealing that she is pregnant with Gael's child after their one-night stand was shocking for us, but Gael's response was just as surprising. While she says that she has no expectations of him, Gael refuses to let her go through pregnancy alone and willingly steps up to be a father to their child. It takes a lot of strength to completely re-evaluate one's life in the way that Gael does, but his desire to throw himself headfirst into supporting Isabella during her pregnancy deserves all the praise.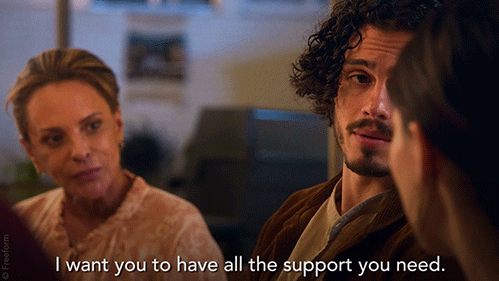 As a member of the Tarim, Adil has a much more pacifistic approach to both magic and the world than the members of the American military that he encounters at Fort Salem. What makes him stand out as a great male role model is his commitment to family, especially his desire to protect his sister, Khalida – even if he has to work alongside a group he strongly disagrees with to achieve that.
Adil is also one of the few magic users who can continue the traditions of his people. When General Alder suggests sharing these secrets with her, Adil refuses, as he worries about what someone like Alder will do with that power. It takes a lot of strength to oppose someone as powerful as General Alder, and it really drives home his commitment to both family and culture.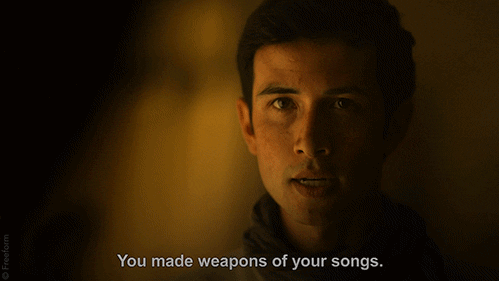 grown-ish - Vivek calls out his friends' internalized homophobia
Vivek can always be counted on to bring the laughs in grown-ish, but there's much more to him than that. He's great for admitting to his own insecurities about his working-class upbringing, but it's his willingness to oppose his friends' more toxic attitudes that makes him stand out. In season 3, Vivek reveals that he and his girlfriend had a threesome with another man, and that he and Vivek kissed at one point. Aaron and Doug (after automatically assuming that the third participant must have been a woman) are taken aback by this revelation and insist that, despite Vivek stating that men aren't for him, he must be "bisexual or at least bi-curious."
His friends' reaction is not an uncommon instance of toxic masculinity, with men often being expected to follow a strict concept of straightness, where anything outside of it is automatically perceived as gay. Frustrated by their close-mindedness, Vivek calls out his friends for their homophobia and eventually kicks them out of his house. It was a powerful moment that showed a lot of courage on Vivek's part!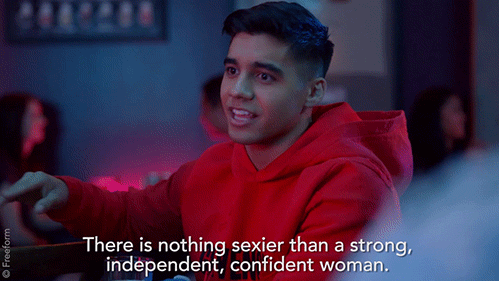 Nicholas finds himself serving as guardian to his teenage half-sisters after the death of their father, and he struggles to express his emotions, including his grief, throughout the series. Fortunately, Nicholas is able to discuss these feelings with his boyfriend, Alex, something that can be difficult to do when men are so often encouraged to be emotionally closed off. Even as he is struggling with loss, he continues to be incredibly supportive of Genevieve and Matilda, guiding them through their teenage woes.
Nicholas also finds out that he is on the autistic spectrum, which brings us some amazing moments of him learning how to process his emotions and maintain healthy relationships with other people, something that all men should aim to do.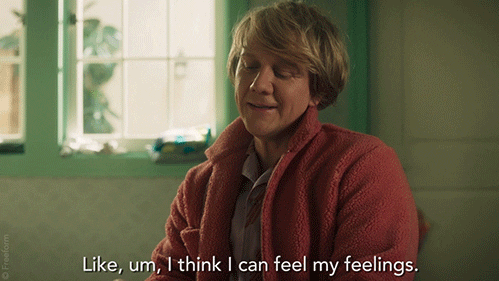 The Bold Type - Andrew openly confronts financial hardship
For much of The Bold Type, Andrew was little more than Jacqueline's sycophantic assistant at Scarlet. Over time though, his layers were peeled back to reveal a person with a great deal of depth that is also incredibly admirable. In the final season, Andrew is revealed to be working as a drag performer on the side because his day job doesn't pay enough; something which he is initially ashamed of. However, over time he learns to express himself confidently by owning his sexuality and admitting to his financial hardships – something which many men often struggle to do out of fear of being branded a failure. Andrew even goes so far as to raise this issue with Jacqueline, which takes a great deal of bravery.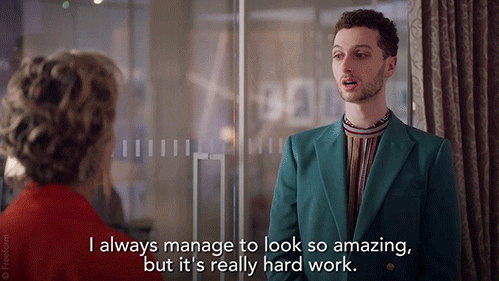 Good Trouble - Dennis opens up about his mental health
As the oldest resident of The Coterie, Dennis starts out with a bit of a bad reputation, being labelled a creepy loner. The reason for his isolation is eventually revealed when he opens up about the death of his son and his struggles with mental health. Unfortunately, there is a great deal of stigma surrounding men opening up about their mental health, despite men accounting for over 69% of suicide deaths in 2019 in the US.
That's why it's important that Dennis opens up. It sends an important message that it's not a sign of weakness to reach out for help. He even goes so far as to admit himself to a mental institution for psychiatric care to find the help he needs, which shows a great deal of bravery as well as a will to work towards a brighter future for both himself and others.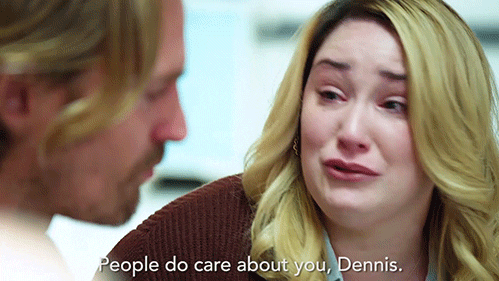 The Bold Type - Oliver offers guidance to his co-workers
Head of the Fashion Department at Scarlet, Oliver Grayson, simply put, is the perfect example of someone who is supportive of his friends and colleagues. Oliver quickly develops into something of a father-figure to those he works with, offering amazing advice to Sutton and the rest of the ladies at Scarlet throughout the series. He helps Kat feel confident in her bisexual identity after Adena turns her back on her for dating a man, and he encourages Sutton to follow her heart and go after Richard when everyone else wasn't so sure about their relationship. Truly the best kind of boss!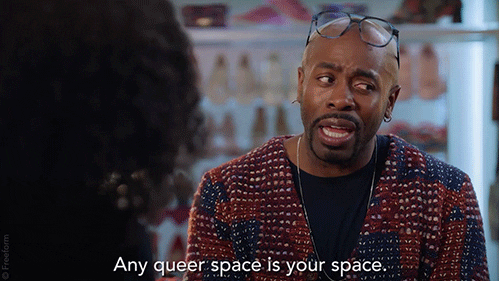 grown-ish - Cash confronts his father
There is one particular stand-out moment during the first season of grown-ish that shows just how layered the star of Cal U's basketball team is. Frustrated with his behavior, Zoe finds out that Cash's father has been selling his son's trophies while he is at college to buy alcohol. Despite the tension between them, Zoe offers to join Cash as he drives home to confront his father, and he slowly opens up about his upbringing and his emotions. This is something that can be incredibly difficult for men because of the stigma surrounding showing emotions.
Cash eventually confronts his father and cuts him out of his life, which is something that can be equally challenging to do for anyone. It takes a lot of strength and bravery to be as open and vulnerable as Cash is in this moment, and while his other actions later in the series may not be considered forgivable, this was certainly a powerful moment.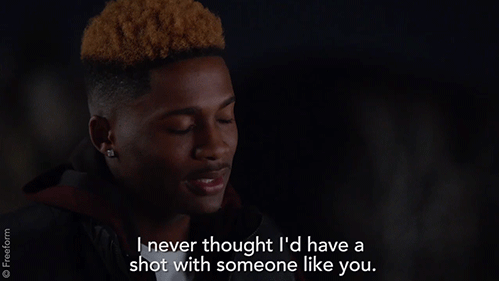 Good Trouble - Rafael Martinez supports his trans granddaughter
In what proves to be one of the most touching moments in Good Trouble, Jazmin hosts a Doble Quince on her thirtieth birthday after never experiencing a quinceañera when she was younger. As a trans woman, Jazmin has been effectively ousted from her family, with Gael being her only family member who attends. Eventually though, their abuelo arrives and gives his granddaughter a gift, later telling Gael: "I don't have to understand everything to accept it."
It's a heartfelt moment that highlights an older person embracing and expressing their love for a younger family member regardless of that person's identity. He refuses to have his love for his granddaughter be ruined by hate or division, and all men should follow in his lead.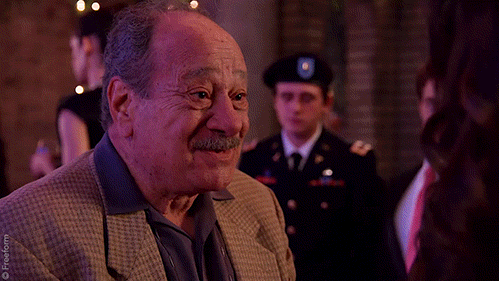 ---
These moments are just some of the many that showcase the positive impact that men can have on those around them by challenging misogyny and homophobia, or even re-evaluating their own attitudes and beliefs. They also highlight the importance of being open about struggles, however they come in our lives. Struggling is not an automatic sign of failure, and it's about time to throw away the stigma around these problems and work towards a better future for everyone.
You can catch all these shows on Hulu and find clips and extras on Freeform.com!